I haven't forgotten
Okay. I admit it. I had like, a crush on Rafael Nadal nearly 5 years ago. It started with more of feeling sorry for him because he was the "number two". And somehow, I felt that he kept losing to err, say, James Blake (!?) or who-not. Can't remember.
And then I thought - wow, if I date/marry a tennis player who actually travel the world and does it professionally (ie earning millions), it would really fun. You get to travel, eat good food, workout and do my favourite writing! I tend got myself warped into imagining a life like that. It was certainly fun. Fun simply because I get to do my reading, writing and workouts - doing all your favourite things and being fit at the same time. Who doesn't want that? I dwelt in this imagination for quite some time (I grew up imagining many, many things.. you do not even want to begin to know what were my past 'dreams')... and eventually, I grew out of it.
It must have been the time when Nadal started to win.. and win.. peak being that very, very painful 2008 Wimbledon finals..
I remember we were following the livescores on the computer in the middle of the night in my room in Vista. Jas and my big sis were around.. Jas probably soundly sleeping on the bed while both of us were on the floor... and it was such a devastation at the loss.. I vaguely remember the exact words being used - but it was along the lines of saying the Federer era has come to and end.. just like the darkness came about in SW19.
It was almost at that very moment, I started to feel so sorry about Federer, the defending champion of, what, 5 times? at the All England Tennis and Croquet Club. I started to shift my partiality towards this champ who was about to drop his ranking.
As we have known by now, Rafael Nadal went on to be the 'unbeatable' for quite a good run.. he completed his Grand Slam collection eventually in the year 2010, not long after Federer completed his. In fact, records had it that he's the youngest in the Open Era to have done so. He won the Olympics gold medal in Beijing Games, don't forget too... and slowly, I have forgotten about my 'crush' towards this Spaniard who was born just 15 days before me.
The Nadal we know today is a 10x Grand Slam winner (as of now
lah
).
To cut the long story short, this other dude (call him Djoker) suddenly surged into the 'unbeatable' and he became to best player in 2011.
Somehow, I must have started to feel not that against Nadal anymore.. you see, I tend to support the 'underdogs', if you know what I mean. I started to feel slightly sorry for him.. always wanting him to at least beat Djoker (I am not sure about ever feeling sorry for this 'Nole' though.. teeehee).
Or perhaps, I just don't follow as much tennis anymore.. now that my career is flourishing,
ahem
.
Recently, I just finished reading this autobiography by Rafael Nadal.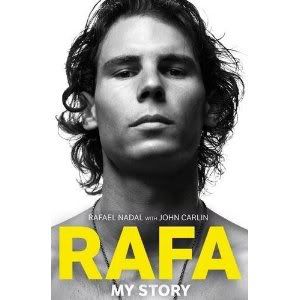 I must say - this is a pale comparison to Agassi's autobiography. I was so immersed in Agassi's that I went around recommending to various people.. tennis fan or not. Rafa: My Story started off depicting in real minute detail of that very, very painful Wimbledon 2008 final. One would assume how a Federer fan like me could bear reading such painful experiences..
It was indeed painful for me. I had a very nauseous feeling throughout, simply because it reminded me of the days when I was (probably 5 kg lighter than now) so easily affected by tennis that I get this angina-like symptoms. It was a bad memory.
I carried on reading, anyway. The book is structured mainly around the finals of that very eventful Wimbledon 2008 finals and the historic completion of Grand Slam at the US Open finals in 2010. The content became more bearable as the story went back to Nadal's earlier years.. and more on his younger days and family.
I finally finished the book today and I must say, not bad at all! For someone who secretly harboured this crush (what?!) towards Rafa half a decade ago, to read it at point 'neutral' at this point really gave me a better perspective into his side of story. I saw someone who worked so hard - he really deserved the wins, I have to admit. As painful as they were to the players, tennis is a game where there could be only one winner and one loser. It does not matter how much you lose by, even the tiniest margin (doesn't matter if you win more points in total, even), you still lose at the end of the day.
All of a sudden, I find myself giving up that secret mission to stalk players at their Wimbledon homes this summer.. or to loiter around Tesco Express (Nadal says he would go grocery shopping himself.. whoah!) in Wimbledon Village. Maybe he would go to the new Little Waitrose this year?
Rafa My Story reminds me that everyone has a story to tell. I should not daydream all day long about things I could not achieve. I should be writing my own story.. it may not be as fancy as Rafa's congenital foot problem (!? tarsal what?!?) or his endless endorsements cashing in.. I do think I have a story to tell too, don't I?
Having said that, I should recommend this book.. not as sizzling or controversial as Agassi's, but definitely a must-read.