Cruelty. My passion.
I've never come up with this conclusion but tonight, I have to insist - tennis is a cruel game.
Don't get me wrong. I love tennis. I love its mechanics and the physiology of how your core muscles generate that power (not the lateral epicondyle getting repetitive injury, btw). I admire that crisp forehand so accurate and so strong. That angle of perfection. It is all physics embedded into tennis, trust me - and I must admit I am not the biggest fan of physics.
But tennis is just so cruel.
I haven't followed tennis properly due to work commitment (hello, I am going for my 'R', no time, okay) but tonight, I managed to catch the Isner-Federer finals in Indian Wells. I remember that Indian Wells four years or so ago when Federer lost his SF to Mardy Fish and I flight bound to KL. I had angina all the way back to KL it was not funny at all.
But this year, he wins it against the giant Isner. It was a tight first set which he squandered a few set points before finally closing it on tie-breaker. You would think John Isner is on fire after beating the world number one Novak Djokovic. I do think we have to give some credit to him. After all, Djoker is still doing very well on the tour.
The second set showed some flaws when Federer broke Isner and finally consolidated his win - his fourth Indian Wells title. Whilst the tournament brags about the USD1 million check, the highest so far in the Californian desert's history, my thoughts went back to John Isner.
We remember John as the dude who played the longest match in history and this piece of 'history' took place in 2010 - I was actually there on Tuesday when the match started. It did not end until Thursday. Isner won it (correct me if I'm wrong). It must have been a hell of pain for his opponent that time, Mahut. But today, Isner was at the losing end. To have come so far (read: beating world number one), he lost it at the last minute to a former champ - Roger Federer himself. I could not help but feel sorry for Isner. It must have been really painful.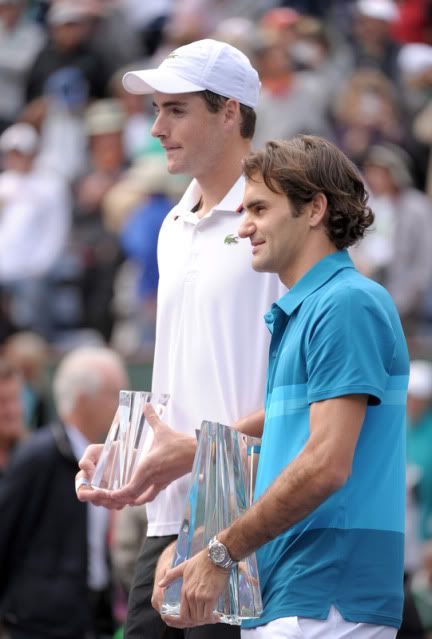 That brings me back to my main point - tennis is a cruel game. You know at the end of the day, there will only be one winner. No matter how good both players are, you are just going to get eliminated if you're not the winner. There is no consolation prize. Isner may have gotten USD500k prize money, but his name would not be remembered because at the end of the day, despite beating Djoker, he still did not win the tournament. It is so cruel because one can't help but be sorry for person who did not make it. I felt that pain. This angina-like feeling was not as intense as the 2008 one but it reflected the core of the monstrosity of the game.
You just cannot have two winners.
I would be bawling my eyes out if I were Isner. As much as I root for Roger, this heart aches for John. So near so far, if you know what I mean. I wish John Isner all the best for his career.
As for the champion, I hope it is not just the below-Grand-Slam level sort of performance. He needs to do better in Grand Slam levels. A bit more aggression.
I am waiting for you in Wimbledon, Rog.