Wimby trip
WOOOTS!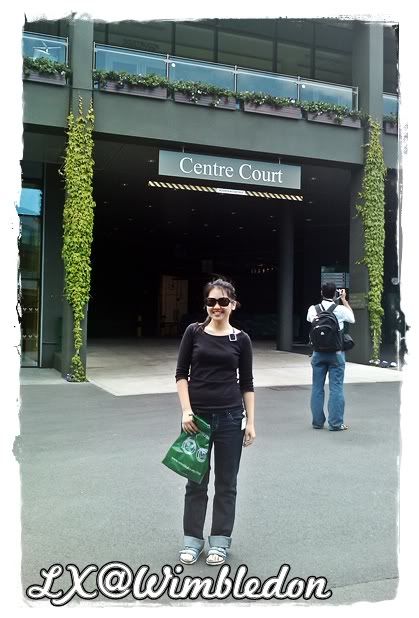 LX@Wimby!
A bit too late for me to drop by The All England Tennis and Croquet Club in SW19 to grab those cheap bargains and sale items. Now there are no more sale items because The Championships are starting this coming MONDAY!
Tsk tsk. Time really flies!
So do I look cool in the photo above? Thanks to my friend 'Shing' lending me her very atas sunnies. I know my slippers look very ah ma and my jeans need some professional alteration (make mental note: bring back to Miri during summer, pls!).
Because everything was expensive in The Wimbledon Shop, I nge nge wanted to buy something. Ended up buying a lapel pin for Meepit to put on her LEO vest and dampeners because they are just GBP3 each. HOHOHO.
Okay. I am nuts.
BUT BUT. Did you know that Tsonga, Djokovic, Roddick and Murray was training at the Aorangi Park which was just north of Court 1 when we were there??? So near yet so far!