Aussies says 'G-Day, Mate!'
Alright. So the craze is on. It is the Australian Open.. one of the four major Grand Slams of the year. In fact, this is the first Grand Slam of the year. It is held in Melbourne Park of the state of Victoria in this kangaroo-land Australia.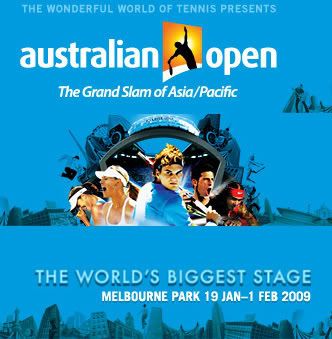 Well, just look at the poster! Whoever who did this must be a huge fan of Roger Federer. He is at the centre. Yippie yuppie doo!
You see, I view him as the underdog. I always support the underdogs. Underdogs plus Roger Federer. No matter what. I do not really care who else win or lose. I just want Roger to win a couple more times before he calls tennis "a day", retreat to his alps in Switzerland or tan himself in Dubai and marry longtime girlfriend Mirka Vavrinec.
Meanwhile, I really root for him! I know, I know. Most people go for youngsters like Rafael Nadal, Andy Murray or Novak Djokovic. I must go for Roger Federer. No matter what.